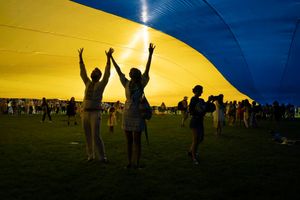 Fundraiser for Ukraine
 Ivan is Ukrainian, and his entire family and friends that are family are there. His mother Tetiana works tirelessly every single day making smoke checkers with an organization called The Ukrainian Bike Family that actually, tangibly, saves people's lives on the frontline on a daily basis as Ukraine defends itself from the Russian invasion. This grassroots operation has been instrumental in the last 1.5 years in a grueling war that continues its relentless, torturous fight. It is pivotal that we do all we can to help these soldiers, save all the lives we can and help them persevere. This month, we have a clear goal: We want to raise $5,000 for this organization. The money is used to buy supplies like saltpeter, wax, and sugar powder that are used in making the smoke checkers. We are starting it off by pitching in the first $1,000 ourselves. We have been contributing every month since the war started, and we have already had generous contributions from many of you. As much as we inherently dislike fundraising, this issue is much larger than us and we are committed to continuing to contribute for as long as it takes. Will you help us reach our goal of $5,000? 
Thank you SO VERY MUCH. Slava Ukraini. 
Please watch the video below for more information about this incredible grassroots organization!